TN-2A Electronic Fuel Shut-off $895.95 wholesale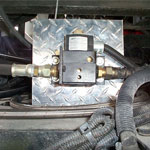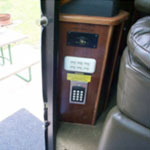 Thief's Nightmare 2A or TN-2A is an electronic key for a high-tech fuel shut down system. No pad lock required here. This is the best Coded Entry Anti-theft device on the market today for the big and small engines alike and will also work on anything with a diesel motor. The main device stays hidden somewhere in the engine compartment while the coded keypad is placed near the operator for ease of use. Can be pre-set to your own personal code. The TN-2A is a very effective Anti-theft and Anti-terrorist attack device. The TN-2A is designed for construction equipment, Semi-trucks, Yachts, Farm Equipment, RR equipment and high end Auto's. Simply type in a security code on a key pad and the fuel system is disabled. Affordable, effective, high in quality and reliable. It also disables the starting motor at the same time it kills the fuel system.
No re-priming the fuel filters are required. It doubles as a safety lockout/tagout system on all above. The TN-2A attaches permanent and is set with a keypad by simply typing in a code controlled in the driver's area. The actual TN-2A product is hidden in the engine compartment.