TN-2A Electronic Fuel Shut-off $895.95 Wholesale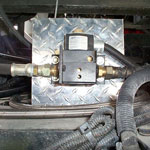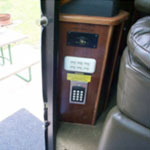 Thief's Nightmare 2A or TN-2A is the best electronic Anti-Terrorist "Fuel" equipment engine disable system in the world to easily prevent theft of whatever it's attached to. It locks up any fuel system to stop the engine from running within seconds once set on semi-trucks, construction equipment,RV, farm equipment or any thing with a motor. No re-priming the fuel filters are required! As an added bonus, it can shut down the starting motor too. Tested extensively on the ThiefsNightmare demo coach for years in hot weather or cold, it does not matter, it offers trouble free use to the operator. It doubles as a safety lockout/tagout system and makes an excellent Anti-Terrorist product for all types hazmat loads pulled by semi-trucks, food supply chain loads, tug boats, yachts, RR equipment, construction equipment, etc. The TN-2A attaches permanent and is set with a keypad by simply typing in a code controled in the drivers area.
Worried about your hazmat load, cargo ship, tug boat getting hi-jacked or stolen by a terrorist? Within two seconds, the driver can type in a code and shut down the truck or tug boat within seconds; the terrorist will not go anywhere. This device is controlled by a keypad with an unlimited amount of private codes that you yourself make up. Your loads can now be SAFE. While having a GPS system that tells you where your might be going or ends up is good, that will not stop the terrorist from the theft! However, this TN-2A will kill the engine and the thief or terrorist will not get it re-started without the correct code to do any major harm. His terrorist plans of using your tanker load, barge or construction equipment for a weapon of mass distruction will be foiled.